O God, whose glory it is always to have mercy: Be gracious to all who have gone astray from your ways, and bring them again with penitent hearts and steadfast faith to embrace and hold fast the unchangeable truth of your Word, Jesus Christ your Son; who with you and the Holy Spirit lives and reigns, one God, for ever and ever. Amen
Book of Common Prayer, page 218
Regretfully, St. John's Episcopal Church is not offering in-person worship at this time.  Below you will find information about services online. 
The Annual Meeting was held on Sunday, January 31 via a mailing to each parish member's home.  The mailing included the annual reports normally distributed at the meeting and vote-by-mail information. The congregants were asked to vote and return their responses by mail. We thank everyone who responded for their prompt replies to this unusual but effective form of conducting the business of the church.
As featured in the Orleans Hub
Episcopal churches offered ashes-to-go at start of Lent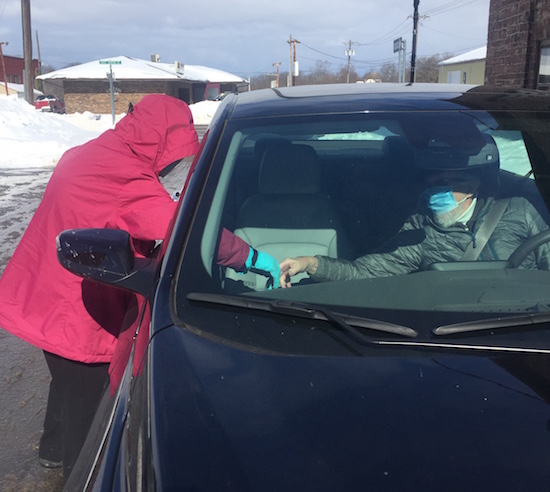 Provided photo from Cynthia Kiebala
MEDINA – Rev. Nancy Guenther of St. John's Episcopal Church in Medina, hands "ashes-to-go" to parishioner Roland Howell as Ash Wednesday was observed today.
The Rev. Guenther distributed at St. John's in Medina and Rev. Colleen O'Connor did the same at Christ Church in Albion.
The parishioners were given a small bag with ashes, a prayer card and a Touch Stone made of clay and ashes that was imprinted with the sign of the cross.
Ash Wednesday is the start of the Lenten season, which is about six weeks with fasting and prayer for many Christians.
This year Easter will be observed on April 4.
Lenten Meditations and Materials
Several Episcopal organizations offer free Lenten meditations and materials:
Episcopal Relief & Development
The Society of St. John the Evangelist
Life Transformed: The Way of Love in Lent
Lenten Book Study: Ladder to the Light
During Lent, the partnership dioceses will host weekly book discussions on "Ladder to the Light: An Indigenous Elder's Meditations on Hope and Courage," by Bishop Steven Charleston. Participants can choose between discussion groups on Zoom on Sundays at 3 p.m. or Thursdays at 3 p.m. The discussion series, led by Canons Cathy Dempesy-Sims and Twila Smith, will begin on February 21 and 25 and continue for five sessions, through March 28 and April 1. The book is available in print and digital formats ($13-18) from a variety of sources. If you need assistance acquiring a copy, contact Gabrie'l Atchison in the bishop's officegatchison@episcopalwny.org.
Spiritual Practices for Living in Uncertainty: A Lenten Series
Each week in Lent, the partnership dioceses will offer an online program on spiritual practices, led each week by people from across the region. Participants can choose between sessions on Tuesdays from 3 to 4 p.m. from February 23 to March 23, or on Thursdays from 7 to 8 p.m. from February 25 to March 25. Each week's Zoom sessions will explore a specific practice: prayer, learning, stewardship, serving, and relationships, and how Christians can deepen our relationship with God through our daily lives and communities. Participants will receive weekly emails with resources for each faith practice. To sign up, please email Gabrie'l Atchison in the bishop's office: gatchison@episcopalwny.org.
The Episcopal Dioceses of Western New York & Northwestern Pennsylvania https://episcopalpartnership.org/
ONLINE WORSHIP ON SUNDAYS AT

10

A.M.
Bishop Sean and other leaders from across the partnership dioceses are leading worship at 10 a.m. on Sundays via the Zoom platform.
Services can be accessed by using this link: https://zoom.us/j/83696917902?pwd=cm8zUWh0Y2loTjYyKy91YURsTVBCQT0. If you are asked for a password, use lakeerie. To join by phone instead of video, dial 646-876-9923 and use code 83696917902#.
The Genesee Deanery is offering
 7:00 pm Tuesday & Thursday
Anyone who wishes will be able to connect to this prayer  service either through their computer, or by telephone using the instructions below. 

 
Meeting ID: 884 5954 7624
+16465588656,,88459547624# US (New York)
Meeting ID: 884 5954 7624
St. John's Episcopal Church is located at 200 East Center Street in Medina, NY. Our mailing address is P.O. Box 699, Medina, 14103. Donations, memorials and pledges may be send to this address as well as any correspondence.